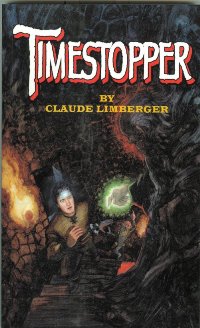 Timestopper
A Pug Enterprises book by Claude Limberger
Don't waste your time on an ordinary book. Read TIMESTOPPER!
Timestopper is an adventure book taking place on another world very similar to medieval Europe. We follow Einu, a young timestopper in his quest to rid the world of magic and the last evil sorcerer who stands in his way. In what could be a straight-forward fantasy story, this novel shockingly turns fantasy into a real life adventure for the author. Or perhaps, it is the author who is lost in a Walter Mitty type story.
Whichever is true, some startling insights into the way the universe works are revealed. The classical perception of time, being an unending linear stream, is challenged by the author Claude who finds it to be a rather jerky non-linear experience as a timestopper. Also, the fabric of reality is molded by the entire human race in something that the author calls the human collective reality agreement. When time stops, this agreement can be altered for the entire human race . During the period of a time stoppage, any one individual can transfer their consciousness to any other individual. Rarely is there a memory of these events kept by anyone, because of what is stipulated in the current human collective reality agreement.
Reviews
Time travel and alternate realities are neatly woven in Timestopper, a promising romp by Toronto newcomer Claude Limberger

Reviewed by Henry Mietkiewciz - Toronto Star
Timestopper claims to be an adventure novel, but it's much more. It is a parable, a teaching manual and a wake up call. It is a captivating, hypnotic tale of a young boy from a medieval type world who is thrown ill-prepared into the alternative reality of time travelers and timestoppers. On his quest to rid the world of magic, (shades of Newt Gingrich) the young Einu is forced to gain perspective and find acceptance with an extreme, new view of reality. Naturally I as a reader had to examine my own view of reality.

In this book, time stops often, but people refuse to acknowledge it. When it does stop, the collective reality agreement of humanity can and often is altered. In the end, Einu's reality is altered forever.

Claude Limberger is a very original writer, his second book even better than his well-crafted first. I am optimistic that if he keeps writing this way, he could join the ranks of Tolkien, Moorcock, and LeGuin as one of fantasy's greatest. His books are refreshing unique and thought provoking. This is the type of book you want to snuggle in bed with while time stops.

Reviewed by Michael Peter Langevin - Magical Blend
Einu is a young boy with the ability to stop time. His is a quest to rid the world of dark magic. But Malux, the last evil sorcerer stands in his way.

Timestopper is a lively, action packed, non-stop, roller-coaster of a fantasy adventure story that will prove riveting to young readers as they follow the rather inept Einu grow in power as he reaches manhood, copes with the awkward teen years (and his best friend's girlfriend!); "accidentely" becoming his own best friend and losing his time-stopping ability, then proceeding to become the best fighter in the history of the world. Timestopper is a terrifically entertaining, original, and engaging story from first page to last.

Midwest Book Review
Timestopper is a book that ... It brings up images of ... Well, let me put it this way, have you ever had one of those days when you didn't feel like yourself? Ever with you could be someone else, live another life?

In Timestopper you do! Claude Limberger's writing is superb. It's one of those books that I couldn't put down. It's filled with non-stop action. And along the way you have the opportunity to gain insight into the way that ordinary people deal with time. In fact the author's last bit of advice to his reader's is '... don't infect your future with your past.' But the adventure part of the story just rivets the reader to the book that you hardly notice the fact that it is stuffed with such insights - they are subtly interwoven into the story that it is easy not to notice them.

Claude tells a tale of the exploits of a young boy, Einu, who was born with the ability to stop time. You'd think that with this ability that life would be easier and all your problems would go away and give you a chance to take a breather from day to day living - but not so within stopped time there is another world to be experienced filled with magic and madness.

We follow Einu from the age of fourteen to adulthood as he copes with this strange world. As Einu grows older so do his powers and abilities. He mistakenly merges with his best friend, Janus - and begins to live another life. Imagine having that opportunity. Well the author truly lets you live that other life you experience the benefits of being in a strong and virile body and also the downfalls and mishaps of life through events such as mistreatment, battles, war, and much more. He not only lets you step into someone else's shoes - he settles you right into their soul.

So if you've even thought of wanting to be someone else and live through another life - read Timestopper first.

Judy Remedios - Eye For The Future
Timestopper is a must read for anyone exploring their own inner nature.

Pamela Sims M.Ed., - Author of Awakening Brillance: How to Inspire Children to Become Successful Learners