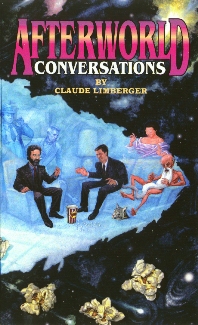 Afterworld Conversations
A Pug Enterprises book by Claude Limberger
Afterworld Conversations is a provocative and thoughtful account of a world most of us know nothing about. Claude Limberger takes on the daunting task of interviewing an interesting array of spirits. Within these differing conversations Claude is propelled into amazing life-altering experiences which pulls the reader into the fantastic situations painted by the skillful pen of the author. It is an inspiring book for anyone who has ever wondered if there was more to life!
By taking you on magical journeys, Claude's concise yet mind-expanding concepts give insight into what it means to be human. Within these journeys you learn how to be truly alive. Guided by the experienced hands of some very unusual spirits, Claude's journeys offer a truly unique vision of the human condition. He is revisited by some spirits from his past who taunt him with his own human failings. The many messages included in this book transforms your spirit to experience a new freedom by healing the gap between the mind and the soul. Claude's exquisite imagery will haunt you into eternity.
Afterworld Conversations is a must read book that only comes around once in a lifetime.
Reviews
Claude Limberger continues to express his philosophical ideas in his latest book, Afterworld Conversations, in his profoundly unique style that sets him apart in the realm of fantasy novels. Afterworld Conversations is the third book in Limberger's trilogy, invoking thought with equal eminence of his first two novels, Afterworld and Timestopper. He weaves an engaging, fascinating and entertaing narrative.

The book begins with a series of visitations, much like Dickens' A Christmas Carol. The narrator recognizes each of the creatures that appear to him, and has a history of working with them in a teacher/student relationship. They spin the narrator off into fantastical situations to teach him various lessons he can only learn through experience. He is shocked and traumatized into a wider, deeper vision of the universe, as his "real world" is pulled out from under his feet.

The metaphysical and philosophical ideas are the foundation of the book. You cannot help but carry on thinking about these ideas, even after you put the book down, which demonstrates Limberger's true skill and clear depiction of his innovative outlook.

Afterworld Coversations is part Dickens, part Casteneda, part The Adventures of Baron Munchausen, part Seth Speaks and all Claude Limberger's adventurous and deeply serious writing. It's both entertaining and provocative.

Reviewed by Richard Warner - Eye for the Future